As someone who loves to bake, I understand the importance of safety when it comes to the bakeware we use in our kitchens. That's why I wanted to delve deeper into whether Wilton Bakeware is non-toxic. Non-toxic bakeware is important for health and safety because it ensures that harmful chemicals are not leaching into our food.
In this article, we'll explore the materials used in Wilton Bakeware, compare them to other non-toxic bakeware brands, and discuss Wilton's safety standards. By the end of this article, you will have a better understanding of whether Wilton Bakeware is non-toxic and be equipped with recommendations for other non-toxic bakeware options. So let's get started!
Is Wilton Bakeware non toxic?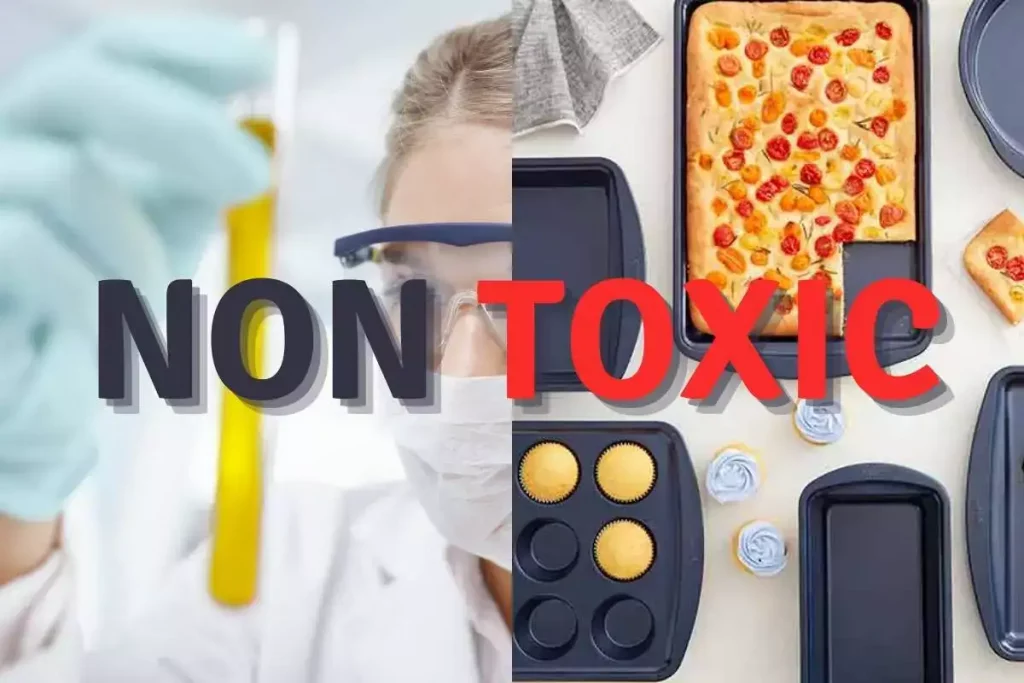 Yes! If you're looking for non toxic bakeware, there's no need to worry about using Wilton products. Wilton bakeware is free of C-8 and PFOA (perfluorooctanoic acid). The Food and Drug Administration has approved Wilton's non-stick coating. It is safe to use Wilton non-stick coatings up to 500 degrees Fahrenheit.
Materials Used in Wilton Bakeware
Wilton Bakeware is available in different materials such as aluminum, steel, silicone, glass, plastic, and ceramic. These materials can affect health differently. Here's a quick comparison of different bakeware materials:
| Material | Pros | Cons |
| --- | --- | --- |
| Aluminum | Durable, conducts heat well | Can react with acidic foods and leach into the food |
| Steel | Durable, heat-resistant | Can rust if not taken care of properly |
| Silicone | Heat-resistant, dishwasher-safe, eco-friendly | Can be a bit flimsy |
| Glass | Non-toxic, oven-safe, microwavable | Breaks easily |
| Plastic | Light-weight, easy to clean | Can warp or melt at high temperatures |
| Ceramic | Non-toxic, heat-resistant | Can crack if dropped |
Wilton Bakeware uses a variety of materials, including aluminum and steel, to create durable and heat-resistant pans. Their silicone bakeware is also popular due to its eco-friendly and sustainable practices. Wilton is a green company that is committed to using eco-friendly materials and sustainable practices.
Wilton Bakeware Safety Standards
Wilton has safety standards in place for their bakeware, which they take very seriously. They ensure that all their products meet FDA standards, which means they are made with safe materials and have undergone safety tests. However, while these safety standards ensure that Wilton Bakeware is non-toxic, it doesn't necessarily mean that it's completely free of harmful chemicals. It is always best to exercise caution when using any product that comes into contact with food.
Other Factors to Consider
There are other factors to consider when it comes to the toxicity of bakeware. For example, how the bakeware is cleaned can affect its safety. If a pan is scratched or damaged, it can release harmful chemicals into the food. It's important to use non-toxic cleaning products and avoid harsh detergents and abrasives.
Another factor to consider is the temperature at which the bakeware is used. Some materials can release toxic fumes when heated to high temperatures. It's important to follow manufacturer instructions for proper use and care of your bakeware.
When it comes to non-toxic bakeware options, there are many brands available that use BPA-free, eco-friendly materials, and Teflon-free non-stick coatings. Here are some recommendations:
Tierra Farm Cake Pan
Heart Cake Pan
12 Cup Muffin Pan
12 Cup Regular Round Pan
By prioritizing food safety and health, you can make informed decisions about the products you use in your kitchen.
You may like to know about Is Le Creuset Bakeware Non Toxic.
Conclusion
Overall, Wilton Bakeware is a safe and reliable choice for those who are concerned about the safety of their cookware. This brand is committed to using eco-friendly and sustainable practices while ensuring that their products meet FDA standards for safety. It's important to exercise caution when it comes to bakeware and to consider factors such as material, cleaning, and temperature when making your decision.
Baking should be a fun and enjoyable experience, and by choosing non-toxic and safe bakeware options, you can have peace of mind knowing that you and your loved ones are not being exposed to harmful chemicals. Remember to read labels carefully, follow manufacturer instructions, and take proper care of your bakeware to ensure it lasts for years to come.
I hope this article has helped you understand the importance of non-toxic bakeware and provided useful information about Wilton Bakeware. Whether you choose Wilton or another non-toxic brand, always prioritize your health and safety in the kitchen. Happy baking!
FAQs :
Is Wilton a good brand of bakeware?
Wilton is a reliable brand for bakeware according to Good Housekeeping and Viewpoints. However, according to The Filtery, Wilton bakeware is not completely PFAS-free and therefore cannot be considered safe. Wilton offers a wide variety of aluminum bakeware in different shapes and sizes to fit any budget[4]. You can also find Wilton's baking supplies on their online store.
Does Wilton bakeware have Teflon?
No, Wilton bakeware does not have Teflon non-stick coatings. Wilton does not use any non-stick coatings manufactured by DuPont, and their coatings have no intentionally added BPA, Lead, Cadmium, PFOA or PTFE.
Do Wilton pans have Pfas?
It is unclear whether Wilton pans have PFAS, as there is no specific information available about this brand. However, PFAS chemicals are commonly used in nonstick cookware, including many brands of nonstick pans. Some companies may advertise their products as PFOA and PFOS-free, which are specific types of PFAS, but this does not necessarily mean that the product is completely free of all PFAS chemicals. To avoid PFAS, it is recommended to use uncoated pans made of materials such as carbon steel or cast iron.
What is the healthiest type of bakeware?
According to various sources, the healthiest types of bakeware are 100% ceramic or glass. Porcelain is also a good option, as it is oven-safe up to 650F and heats evenly and gently. Cast iron with an enameled ceramic coating is another safe option. It is important to avoid cookware made with materials that may be harmful to health, such as Teflon, aluminum, and copper.